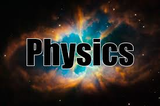 Class / Group Name


PHYSICS, The Invincible of 2020
Description
Non Bengalis are not allowed
ResPaper Users in this Class / Group
Do you belong to this page? JOIN NOW!
Q & A

What if we go round the earth within 1 second ? Then what will happen...will b time travelling
Answer
asked by ParthSarthi 1 year ago
Shared ResPapers
Click on "@Link" on a ResPaper and choose this group to share a ResPaper with your group.